When on a diet, trying to lose weight, or watching your diabetes, you must watch the content of the food you eat. The information on the nutritional content of food is often contained on its printed label. Reading and understanding this can be a challenge. It is however important to be able to understand food labels in order to stick to your diet.
To encourage this, we are giving away a basic health self screen and 3 month membership to Wella health worth thousands of Naira to selected people who are able to get the following questions right.
To enter to win this health screen and exclusive Wella Health membership, read the label below and answer the questions that follow in the comments section below. Selected winners will be contacted by email. You may email us your entry and phone number if you prefer. If you can't answer the questions and would like to know how to help you manage your diet or diabetes. Click here to email us your phone number and we'll be in contact.
The sample information below is on the back of a packet of beans: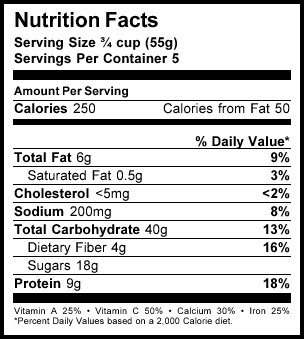 Q1 – If you eat the whole container, how many calories will you eat?
Q2 – If you are allowed to eat 40g of carbohydrate as a snack, how much of this packet will you have?
Q3 – If you usually eat 2,500 calories in a day, what percentage of your daily value of calories will you be eating if you eat one serving?
Send in your answers to stand a chance of winning a basic health screen and complimentary membership to Wella Health where your screening results will be stored and can be tracked over time.
If you have any chronic illness such as diabetes, hypertension or kidney disease. Become a Wella Health member today to get personalized help managing and tracking your health.